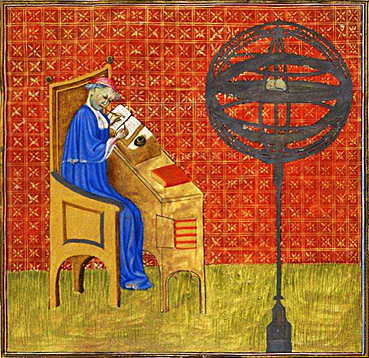 Nicole Oresme

Miniature of Nicole Oresmes Traité de l'espere, Bibliothèque Nationale, Paris, France, fonds français 565, fol. 1r.

---
Born 1323 in Allemagne (west of Riez), France
Died July 11, 1382 in Lisieux, France

---
Further Material on Nicole Oresme and Ulrich Taschow
If you have any suggestions, an interesting link or commentary on Oresme and his surroundings, please feel free to contact us by
info@nicole-oresme.com
. We will publish your contributions on this Nicole Oresme site.
Ulrich Taschow

Nicole Oresme und der Frühling der Moderne

Die Ursprünge unserer modernen quantitativ-metrischen Weltaneignungsstrategien
und neuzeitlichen Bewusstseins- und Wissenschaftskultur

Ulrich Taschow, Author of Nicole Oresme und der Frühling der Moderne
There is no way unless you go it.
Ulrich Taschow understands his work in the tradition of the universal-thinkers beyond the borders of disciplines of humanities, sciences, economics and arts. Taschow: "The most necessary demand of our time I think: We urgently need independent critical minds beyond the present schools of sciences, thinking, authorities, politics, ideologies, religions etc. that produce partial blindness and fears to leave beaten tracks; We need people which by it have the inner liberty to scrutinize traditional and present ways, methods, philosophies and values of life fundamentally. Just like this we have the chance to hear our inner voice. The truth is very simple; it always already exists; every child knows it. So the biggest error of present time is the belief that we have to search for something - an error that based on the illusion that there exists something in the world that we could find. So long as we believe in progress, that we are on a way so long we will search in order not to find. This fundamental error and its catastrophical ethical, economical, social and ecological consequences began in the Middle Ages with the birth of our modern consciousness."
So Taschow practises the "Oresmian style of living". He went to universities, business schools and institutes of arts; he works in the fields of economics, psychology, history, politics and literature as manager, consultant, author and artist.
If you want to get in touch with Ulrich Taschow you can do it by utaschow(at)nicole-oresme.com
Copyright ©avox media 2003-2012 All Rights Reserved.