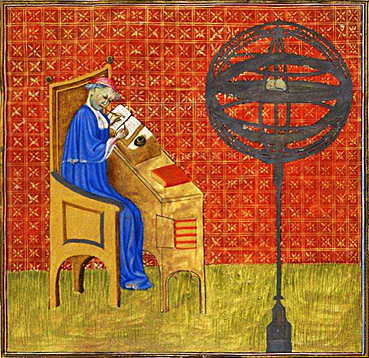 Nicole Oresme

Miniature of Nicole Oresmes Traité de l'espere, Bibliothèque Nationale, Paris, France, fonds français 565, fol. 1r.

---
Born 1323 in Allemagne (west of Riez), France
Died July 11, 1382 in Lisieux, France

---
Further Material on Nicole Oresme and Ulrich Taschow
If you have any suggestions, an interesting link or commentary on Oresme and his surroundings, please feel free to contact us by
info@nicole-oresme.com
. We will publish your contributions on this Nicole Oresme site.
Ulrich Taschow

Nicole Oresme und der Frühling der Moderne

Die Ursprünge unserer modernen quantitativ-metrischen Weltaneignungsstrategien
und neuzeitlichen Bewusstseins- und Wissenschaftskultur

Imprint



This site is part of the avox network of web sites. When you choose to use this web site and its service, you are agreeing to all of the terms and conditions of the agreement (see:

conditions of use) between you and avox media, Inc.
This site was designed by avox media, a company of the avox group. Avox Verlag takes the responsibility for the content.

Copyright ©avox media 2003-2012 All Rights Reserved.





AVOX VERLAG

---

fon

fax

e-mail

internet

www.avox-verlag.de
Copyright ©avox media 2003-2017 All Rights Reserved.